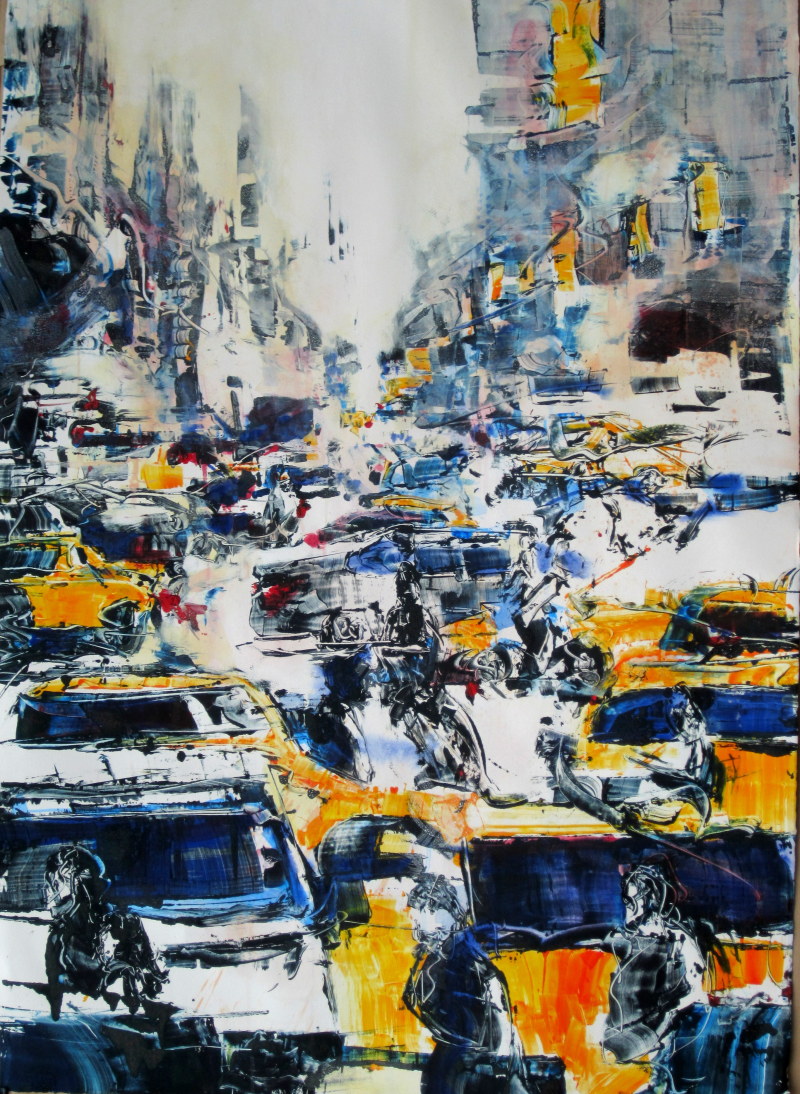 Schönhauser Allee I
"ghost and twins"
2013, Brunnen64 Berlin
Berlin-based now for over three years, Canadian artist David Antonides paints New York, Vancouver and other urban environments. Berlin motifs are now included in this current body of work.
David predominantly paints large-scale watercolors on paper but he also experiments with various other materials, engendering these recent multi-colored monotypes.
Painted on plexiglass and created in ink, David Antonides not only transfers a "mono"- type to paper, but from what remains on the plate a second "ghost" image can at times be realized. The color is less intense and often shows details not visible in the first printing.The second image at times seems to express the "spirit" of the artistic idea more deeply, reduced to its common essentials.
The two works independently migrate from the printing press to the studio, where they are further developed by the artist's pigments and water, so that two works are created. While portraying the same topic, they often express divergent feeling and mood. The result is quite obviously a pair of twins but each is complete on its own and unique in its message.
David Antonides' evolved monotype technique has matured into its own artistic expression. This aesthetic and technical process offers a unique way of looking at reality. Which one is the more interesting or even better twin is up to the viewer to decide. Perhaps it is only relevant if one of the two views can help us to question our own perception of existing detail.
With the opening of its new exhibition "ghost and twins " on November 22 at 6 pm, artist-run galerie " Brunnen64 " celebrates David Antonides and its three year anniversary. The exhibition is on view until the end of the year.
Schönhauser Allee I Detail
"ghost and twins"
Eröffnung 22. 11. 2013
Brunnen64 Berlin
Der nun seit mehr als drei Jahren in Berlin lebende kanadische Künstler David Antonides malte auf seinen Stationen in New York und Vancouver bisher meist großformatige Aquarelle auf Papier. Seine urbanen Motive hat er beibehalten aber auch Ansichten von Berlin hinzugefügt.
Nun experimentiert er schon seit einiger Zeit mit verschiedenen Materialien und neuerdings druckt er, ihm sehr eigene mehrfarbige Monotypien .
Von der, in Radiertinte geschaffenen Plexiglasvorlage erstellt David Antonides nun nicht nur eine "Mono"typie, sondern aus den Resten, der an der Vorlage hängenden Tinte gewinnt er einen, im englischen als "ghost" bezeichneten, zweiten Abzug. Dieser ist farblich weniger intensiv, zeigt aber oft Details, die in dem ersten Druck nicht zu sehen waren.
Der zweite Abzug scheint den "Geist" der künstlerischen Idee tiefer in sich zu tragen, er transportiert das dem Paar gemeinsame Essentielle .
Die beiden eigenständigen Arbeiten wandern von der Druckerpresse ins Atelier und werden dort vom Künstler mit Pigmenten und Wasser unterschiedlich weiterbearbeitet, sodass zwei Werke entstehen, die zwar das selbe Thema zeigen, doch oft völlig unterschiedliche Gefühle und Stimmungen transportieren. Entstanden ist offensichtlich ein Zwillingspaar:Jedes für sich allein ist in der Endversion aber ein Unikat mit einer individuellen Botschaft.
Die Beschäftigung mit dieses Art der Monotypie hat sich für David Antonides vom diesem ästhetischen und technischen Prozess zu einer neuen Anschauungsweise der Realität weiterentwickelt. Gereift ist dieser Schaffensprozess zu einer ihm eigenen künstlerischen Ausdrucksform.
Welches der interessantere oder gar der bessere Zwilling ist, entscheidet der Betrachter.
Vielleicht ist aber nur von Bedeutung, ob eine der beiden Anschauungsweisen, uns dabei helfen kann, die eigene Wahrnehmung von Existierendem genauer zu hinterfragen.
Mit der Eröffnung seiner neuen Ausstellung "ghost and twins" am 22.11. um 18 Uhr feiert David Antonides auch das dreijährige Bestehen seiner Produzentengalerie "Brunnen64".
Die Ausstellung ist bis Ende des Jahres zu sehen.
diversified" 107 by 152 cm ink and aq
fortunate" 107 by 76 cm ink and aq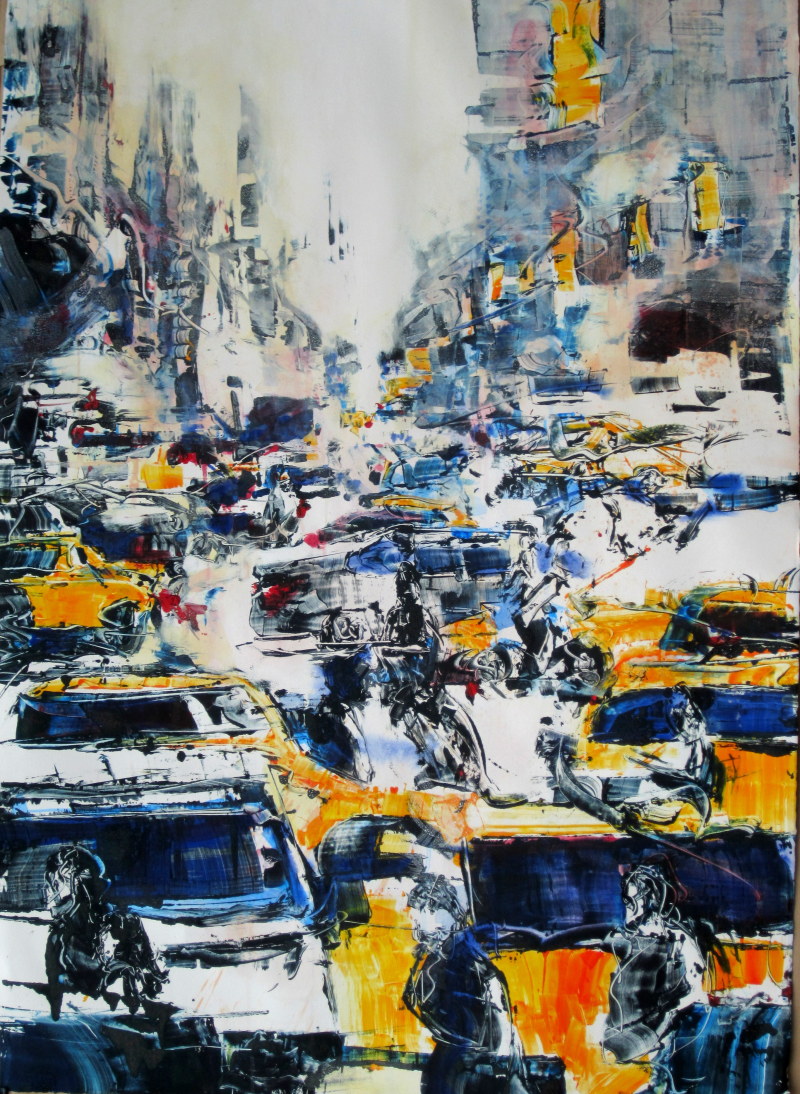 "full range" 107 by 76 cm ink and aq
deferred " 107 by 76 cm ink and aq
"Streaming" 107 by 76 cm ink and aquarell